Needs only 200 cfm air flow.
Aquajet operates at very low pressures of 7-8 bar. All its components and hoses operate below design limits therefore not easy breakable (pls note that a 500 - 1000 bar water pump operates at design limits, and extremely high pressure leads to frequent equipment failure and downtime: 50 % downtime is usual for hydrojets).
High pressure is the reason for hydrojetting equipment being known to be highly dangerous. Water jets have caused numerous leg amputations!
Hydrojet workers need special training, special safety gear and/or certificates to be allowed to work with 500 - 2000 bar.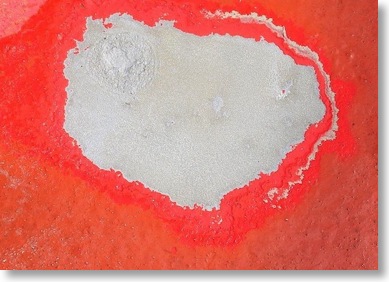 This kind of "feathering" is of highest importance for lasting overpaint performance to avoid rust, water, salt crystals hidden under old paint protrusions.
Even 35,000 psi UHP cannot achieve feathering - it is impossible for water jetting.
Roughness Hydojetting cannot create the important "grip" or roughness profile of 20-30 microns needed for paint to adhere on steel and old paint. Garnet blasting creates this roughness even at a relatively low pressure.
You can bend and direct Aquajet nozzles just as easy as a garden hose. Perfect for work under and between pipes/structures. Impossible for all hydrojets.
Aquajet water consumption is about 5 times lower than hydrojetting Aquajet AJ-150XL needs 7-8 bar air pressure, 200 psi air volume capacity and 1-2 tons fresh water per day. A 500 bar water jet needs about 30 litres fresh water per minute, usually 8-10 tons in 10 hours.
Aquajet's price is a fraction of the cost of a 500 or 2000 bar water jet (which goes from 15-30,000 to 70,000 USD).